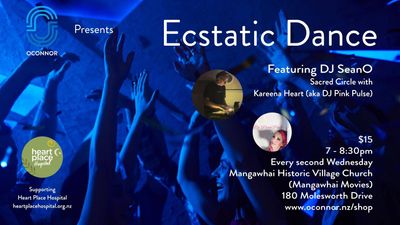 Ecstatic Dance - Wednesday November 22 2023
$15.00
Join us for an Ecstatic DanceFeaturing DJ SeanO
Sacred Circle with Kareena Heart (aka DJ Pink Pulse)
$15 (cash on the door or tickets via website)
7 - 8:30pm
Every second Wednesday
Mangawhai Historic Village Church
(Mangawhai Movies)
180 Molesworth Drive
All proceeds go towards funding
Heart Place Hospital
www.heartplacehospital.org.nz
The dance floor is our medicine to heal and recharge, we include our whole selves, even the parts that want to hide. Through music and dance, we work through the pain and sorrow, and bring then bring joy so our soul, mind and body heals.
About me... DJ SeanO has been playing with music since an early age, DJing for about 5 years and recently discovered a passion for taking souls on a journey through ecstatic dance sets. Recently completed DJ Kimba Jade's Ecstatic DJ Facilitator Training 5 day retreat and now energised to raise the vibration. Join us every second Wednesday for an Ecstatic Dance session in Mangawhai.
About Kareena, DJ Pink Pulse...
Kareena, a Space-holder and Truth-Bringer, embraces the sacred art of guiding souls within her heart-led sacred circles.
With 25 enchanting years gracing stages worldwide as a professional dancer and choreographer, she now continues to bring rhythm , music and movement to the world by sharing Ecstatic dance and Sacred Shaking.
She is a yoga teacher, quantum practitioner, Shaking Medicine facilitator and a vessel of divine service, weaving soul-stirring creations, workshops and retreats harmoniously with her Dj events and her passions for collective healing.
A sacred weaver of dreams she is a beacon of light, illuminating the path of ascension through embodied movement and unity through the frequency of love.
What are the rules?
Be Present (No Phones Or Cameras)
Embodiment (No Talking Or Verbal Communication)
Clear Mind (No Intoxicants)
Be Consensual
Grounding (No Outside Shoes)
Be Free. Dance How You Want. No Judgement
SKU: 10000-1